Teclast P88 HD Review - The Best 8" China Tab on the Market?
Thursday, March 28, 2013 - 11:55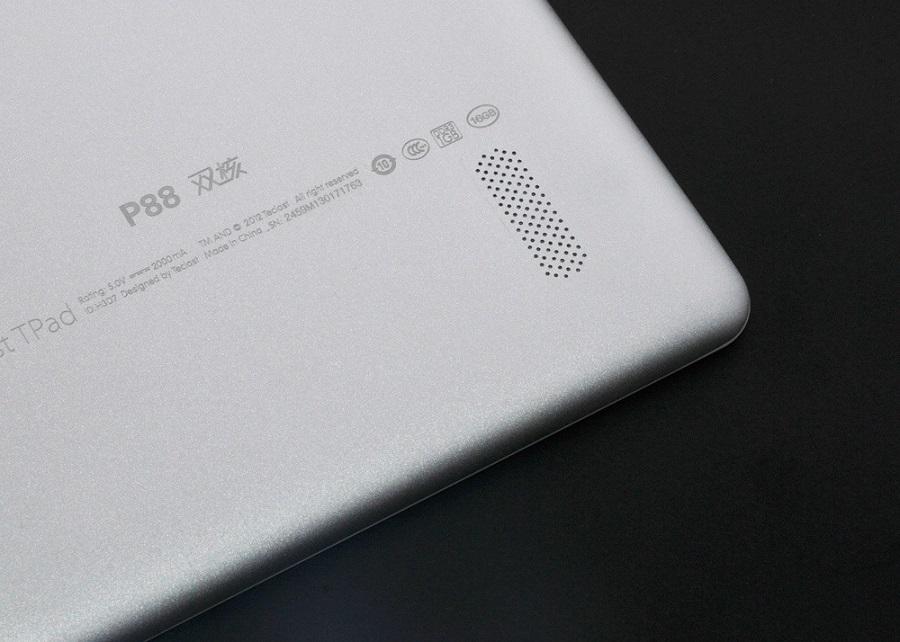 This is going to be a quick run-down on the Teclast P88 HD which is possibly the best 8" Android tablet money can currently buy. I spent several days with the P88 and I want to touch on the major highlights of my time with it. You might be interested to know that at the same time I was testing the P88 HD I also had in my hands the new Quantum Meson 9.7" tablet, the very new PiPo M9 RK3188 Quad-Core tablet, and the Freelander PD80 Vogue Samsung Quad tablet. And my favorite unit to use out of all of those? That's right, the Teclast P88 HD with the RK3066 Dual-Core processor won me over. Read on to find out why...
A few months back I reviewed another of Teclast's 7" lineup that used the Allwinner A10 chipset. I fell in love with it instantly because of the insanely thin profile and surprisingly excellent build quality. Unfortunately it turned out the battery life was less than abysmal and ultimately the A10 was falling behind in the wake of the then quickest China chip, the AmLogic 8726-MX Dual which was being stuffed into 7" units left and right.
Therefore, battery life was my big concern coming into the review of P88 HD, as build-wise, it was very similar to the A10 based 7" unit I had looked at some months prior... Let me just get rid of the suspense... battery life doesn't disappoint on this unit and it is probably one of the best 8" devices in that area as well. I will discuss the particulars of the battery test last though... but first...
Why are we talking about the Dual-Core when the Quad-core version is available?
I need to get something else out of the way for all of you who are shopping about and have perhaps noticed the newer "quad-core" version of the P88 and are scratching your heads as to why I am bothering with the "dual-core" variant....
It comes down to chipsets... Many of the big-name China brands have hopped on the Allwinner A31 Quad-Core bandwagon... Teclast included... The new quad P88HD is a good example of that. However, benchmarks have shown time and again that the A31 is actually "barely" on par and in many cases slower than the RK3066 Dual-Core chipset that has been around for nearly a year now. Throw in the additional facts that the A31 platform is still buggy/glitchy and that Allwinner is, in my humble opinion, a much less "reliable" chipset manufacturer when it comes to quality control vs. Rockchip and you will quickly see why I think the RK3066 dual core version of this device is the better way to go. I won't go down this rabbit trail any further as this has been discussed at length in other places.
Teclast P88 HD Dual-Core Specs
It has an RK3066 Processor at a full 1.6 Ghz. 1 Gb DDR3 Ram, 16 Gb of Storage, a brilliant 1024x768 IPS HD 8" Screen, supports WiFi G/N, has a Micro-HDMI out port, USB OTG Port, Front and Rear Cameras, and a Capacitive Glass scratch-resistant touchscreen. It is running Android 4.1 Jelly Bean, has a rear-mono speaker, microsd slot, and a surprisingly large (considering how thin it is) 4500 mAh battery.
the Actual Review of the Device
If I were buying a device as a gift for someone, today, I would be hard-pressed to get either the Teclast P88HD -or- the Ployer Momo 12. Now I phrased that a bit oddly and I want to explain why. I am odd when it comes to tablets because I prefer 9.7" 4:3 units. So, actually, I am most happy with the TNT Quantum Meson. It hits all the right notes for me. However, most folks would be turned off perhaps by its plastic back and some people want a smaller device and everyone that wants a larger device, well, they like Widescreen devices. If you are getting a Widescreen 10.1" device, the Ployer Momo 12 is the way to go. No question about it for me. It has the finest build-quality and design, best screen, excellent speaker, and is extremely quick and stable. If I were gifting a device to someone that wanted a larger device, it would be the Momo 12.
However, for folks like my Wife, (and for that matter, myself), that like lighter tablets and/or prefer the 4:3 form-factor, the 8" unit is easily the best size available. You sacrifice surprisingly little in screen real-estate when dropping from a 9.7" to an 8" and you gain a surprisingly large amount of screen real-estate over a 7" device which will just feel cramped by comparison. The ONLY reason I don't prefer my Meson then vs. the Teclast P88 HD is the extra battery life. A 9.7" unit has one other advantage over an 8", it has extra space in the boot for a larger battery. But I said I would save battery results for last :).
Design and Build-Quality
The Teclast P88 HD is wonderful to hold and use, and because they have some of the best design in the industry I will just go ahead and use them as the benchmark...Apple... it feels like it was built by Apple... Yes... this is something I can't say about ANY other China tab I have ever used. The Teclast P88 HD has the fit-and-finish of the iPad 2. The Ployer Momo 12 can come close in the 10.1" category... But the Teclast P88 HD takes it up just one more 'notch to absolute excellence in design and build quality. This, therefore, is the Android answer to the iPad Mini as both are pretty much identical in size. There is absolutely no "give" or "creak" in the build, it feels totally solid and perfectly balanced, the white glass front is scratch resistant and the rear metal panel has suave industrial design that is an absolute "kinesthetic" treat for those of you who are like me that need to actually enjoy the "feel" of a device to really like it. The image at the top of this article shows the speaker grill and it looks slick... if you are staring at that image and asking yourself... is it really as good as it looks? I would like to just answer that yes... it is in EVERY way in regards to build-quality as good as or better than you think it is based on that image.
Screen
Then you turn the screen on.... This is what I would call "very high end" but still Chinese fare. The screen is absolutely eye candy. 1024x768 on an 8" panel is pretty much pixel-perfect. Teclast made a good choice with the panel as this is easily as bright as the panels found in the Momo 12 and the Quantum Meson, both of which have some of the brightest panels coming out of China. Most other tablets just look dull by comparison (or down-right awfully dark in regards to the Freelander PD80 Vogue). So the screen's color reproduction, brightness, and viewing angles are all spot-on. However I did notice it still had a bit of "china" about it. The panel does still have a little light bleed on one side and one or two small bright spots/patches on the screen. None of this is a major detraction though (most folks won't notice) and overall this unit has one of the better IPS panels out of China.
Speaker
Then you turn a song on... Surprise... this small device has a "kick'n" rear speaker. The speaker in this device is extremely loud and pretty much distortion free! Clear, room-filling sound... out of a Chinese 8" tablet? Indeed! I was totally blown away and quite surprised. The only better sound I have heard on a China tab comes from the PiPo M9's dual rear stereo speakers. Between the excellent screen and very loud speaker, this becomes one of the better devices for portable media...
WiFi
Nothing very interesting to report here. WiFi was somewhere between "decent" and "good". During my testing with WiFi analyzer it was a bit odd. I never got an "perfect" signal, however I never got a "bad" signal. The tablet's wifi was pretty much rock-solid "good" but not great from all over my house. So either Wifi Analyzer was mis-reporting, or the Teclast is very good at maintaining a solid connection. I also did some page-load testing and the results of that make me feel the that the latter case is true as pages loaded normally / just fine from all different locations. There are so many tablets where everything is good.... and then you test the Wifi. That isn't the case here at all. The Wifi is good and stable. I don't think the effective range is going to happily surprise anyone, but it won't disappoint or frustrate either.
Performance
I won't spend a lot of time on this as it is the same story with so many devices. The RK3066 Dual-Core, paired with 1 Gb of DDR3 memory, produces excellent performance. Internet browsing, movie watching, day-tot-day Android usage, it is all buttery smooth... Even HEAVY gaming like Wildblood and N.O.V.A 3 are as smooth as can be on the RK3066.
Battery Life
A 4500 mAh cell is quite good for an 8" device and it showed in what has become our "TNT Standard" battery test.... What is that now? On devices with particularly bright screens (like this one) it means knocking the screen brightness down to anywhere from 50% to 80%, turning on and connecting to WiFi, and then opening up Barnes & Noble's Nook app to a white page with black text and letting the battery discharge from 100% to 0%. In this case, we opted for around 75% screen brightness as this screen is exceedingly bright and 75% puts it still well beyond some of the brightest settings on "lower-end" devices that we have tested.
The results? 4 hours and 43 minutes. For any 8" device that is quite excellent. In the grand scheme of China tabs it is good but not great. I am going to do this same test on the Quantum Meson as I will be reviewing it next and I am expecting to get between 6 - 7 hours. But it is also carrying nearly double the capacity of battery. If real-world use is anything for most folks like it is for me though, they will actually be using the P88 HD at between 0 - 30% brightness. Due to the excellent panel, it is extremely usable with indoor lighting at those brightness levels. So they can expect to get around 5 1/2 hours of use out of it. With very low battery drain during sleep periods in between active use, that translates into "all day" for most people. For a fair comparison... other 8" devices we have tested under the same conditions have had a hard time passing the 3 and 1/2 hour mark. Which, in our opinion, is too little battery to sell. This unit has a 4500 mAh battery, many of the 8" units with similar configurations being sold are paired with 3600 - 4000 mAh and some are as low as 3000 - 3200 mAh. All-in-all, if you are wanting an 8" unit, this is probably in the top 5 - 15% for battery life.
What's wrong with it?
I really had to scratch and dig here to find some flaws with this device.... Here is what I have come up with. My biggest complaint was the firmware. It is rock-solid stable however after first flash it doesn't partition the extra storage correctly which means you have to do it inside of android. It takes about 5 seconds and two screen taps to accomplish. It also didn't seem to take our build.prop modifications.... very very odd behavior. So that means I had to also set the language and time-zone after flashing our firmware. I also tested stock firmware and the issues are identical. My biggest concern was that this would affect app availability on the market. Thankfully, it didn't. All the apps/games that should be available to an RK3066 device running TNT firmware were available and it all worked normally. All of our apps and root access also worked. What does that mean then? Pretty much nothing. You have less information available in "about device" in the system tab. That's it. Everything else works exactly as it should and it the performance in Android is stable and perfectly smooth and responsive. However, I needed something to complain about so that is complaint 1. Complaint two is that they used Micro HDMI... which is probably an upgrade and a positive lol vs. "mini-HDMI" but I didn't have a micro-HDMI cable so it was annoying. Finally, it uses the USB port for charging. Which would have been a big negative... except it wasn't. The USB port is totally solid with no wiggle or give and they provide a wall adapter so charging was slowed at all. There is no worry that the USB port will be weakened over time from charging which has been a concern on other units with a similar setup. The way it is built, the USB port is structurally supported by the outer casing (similar to a Nook E-reader which also charges this way) so USB charging has been "done right" and implemented correctly.
Conclusion
I really had no other complaints and overall feel more positive about this device than any I have reviewed in the past year. (The Momo 12 comes very close though...) The bottom line is that if you want one of the finest China Tabs currently available and enjoy the rather perfect 8" size, the Teclast P88 HD Dual-Core with the RK3066 processor is where you should be spending your money.