PiPo Max M8 Pro - The Most Top Notch of Them All?
Saturday, August 3, 2013 - 14:51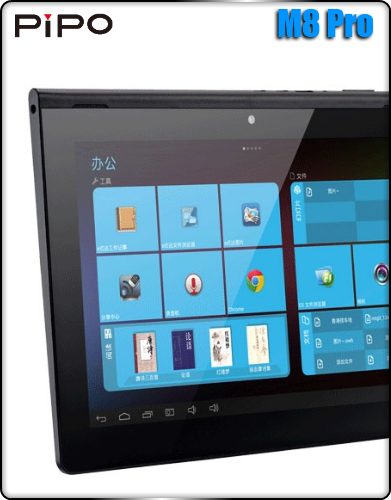 For anyone that has read a few of my articles, you might find a recurring theme... The desire for "WELL-BALANCED" tablets with excellent build-quality.

What does that mean exactly? It means that I am always on the lookout for a tablet that isn't just spectacular in one or two areas (especially at the expense of other areas...) but rather a tablet that "AS A WHOLE" is a spectacular unit... with few or NO "gotchas". Very very rarely does such a unit come along, especially out of China....

A device might have a great screen and good speakers... but terrible Wifi... or excellent wifi, and a phenomenal build-quality but a dark screen... and the list goes on. I could write a whole paragraph or two of real-world examples of just such devices. Often the areas where otherwise great devices fall short are (in the order of most common failures)...
Battery Life
WiFi
Screen
Speakers
Build Quality
Build Quality used to be much higher on that list but thankfully it is one major area where China has really improved over the last year. If you are wondering why "cameras" didn't make it to the list, it is because, across the board, pretty much all cameras on all China tabs (and most US tabs including high-priced devices like the Microsoft Surface) are pretty darn aweful that I don't really consider them when reviewing a device.

I can really count on one hand the number of devices that have more or less just excelled across the board...

Ployer Momo 12
Yuandao N90 II (Quantum Meson, only drawback was a plastic back that scratched easily)
Teclast P80 HD Dual-Core

The back of the device is "straight" or "level" and the frame or front of the device is angled so that the bottom edge of the frame is narrower than the top edge. This means that the back of the device is slightly recessed in the top corners of the frame and the curves out more thickly towards the bottom of the back of the device. I am a kinesthetic design nazi and I don't think anyone else would notice the corners. The bulge of the back towards the bottom of the device looks perfectly fine and I am sure is necessary to accommodate the ample battery. From a design standpoint I would have liked a back panel that follows the thinner profile of the outer frame however I much prefer the larger battery and am happy enough for the trade-off. Ultimately neither of the above mentioned items detracts much from an otherwise perfect and rather awesome design.
That is a short list and if you noticed a trend, they are all RK3066 Dual-Core units. The RK3188 still hasn't had that many models released and while the PiPo M9 is quite slick and a very good unit, I could wish for the screen to be a bit brighter and the design/build quality to be a smidge better so I am going to withhold it from the list even though it comes very close. The RK3066 was the first chipset out of China to provide truly stellar and frustration free performance, hence you don't see any earlier model units. All three units above were designed incredibly well, had excellent WiFi, great sound, and above average/good battery life. They also all had excellent screens. In addition to all of that, they were/are also reasonably priced versus a comparable US device. Each of the three also really shined in one or more areas. The Momo 12 had an incredibly bright 1280x800 IPS 10.1" screen and was phenomenally well designed/thin/lightweight. The Meson was well-designed, had absolutely stellar Wifi range, an extremely bright screen, great sound, and was very lightweight while still having extremely excellent battery life. The Teclast was just amazing all around but particularly excelled in the design category with amazing build quality and looks.

Today, I am pleased to add another tablet to this thankfully growing list. The PiPo Max M8 Pro doesn't just top this list, it blows it out of the water as what is, in my humble opinion, the Best tablet that has ever come out of China. No, I don't throw that out there loosely. My list of "qualms" with this device is minuscule and I could spend the next 500 words saying nothing but good things about it. But instead, I will start with the qualms.


CONS

The Screen is absolutely amazing, but not as bright as the Ployer Momo 12
The metal back of the unit is slightly recessed into the upper-left and right corners of the frame of the device
You must use a data cable (such as the one included with the unit) with a longer Micro-USB connector
Yeah... that's all I could come up with after basically 5 days of straight use. Let me expand on these one-by-one though.


Screen - Cons?

After using this device for 5 days I have not been disappointed by the screen once. In fact, I have been quite thrilled with it. The PiPo Max M8 Pro has one of the highest quality panels currently coming out of China and I am sure that can be attributed to LG, the panel manufacturer. This is the first Chinese branded unit I have ever used that has absolutely NO screen defects. There is ZERO light-bleed around the edges, there are NO light-spots on the panel, there are NO dead pixels, the colors are vibrant and pop, and at 161 PPI it is the absolutely best balance between image quality and performance. You get perfectly crisp high-def images and text due to a 1280x800 resolution being crammed into a rather uncommonly sized 9.4" widescreen panel. (I will talk more about the panel size later on in my "PROS" section...). This is the exactly same pixel resolution (more or less) as a 1024x768 8" display (for example, the Teclast P88HD and iPad Mini...). The screen therefore, isn't a CON at all. Some folks have noted it isn't as bright as a Ployer Momo 12. Save for the N90 II/Meson... NOTHING is as bright as a Ployer Momo 12. The panel inside of the PiPo Max M8 pro is currently, therefore, our 3rd Brightest screen of units sold by TNT, however it is our "Highest" Quality panel and all around BEST display. Due to better contrast, darker blacks, and more vivid colors, I would take this panel in a heartbeat over the Momo 12's and the N90 II's even though they edge it out for brightness. Furthermore, it is brighter than the Cube U30GT2's awesome 1920x1200 panel and because it is a True IPS and built by LG, it is also a bit cleaner. Because it is lower-res, there isn't nearly the performance hit that one must live with if running the Cube U30GT2. In other words, this is the most well-balanced IPS panel currently available which goes with the rest of the design of the device. Moving on...


Design - Cons

This is the only time I will mention anything negative about the design of this unit for the rest of this review. Most of the ports are all along the top rounded edge. I absolutely love their placement, however the edge is a bit thicker which means the ports are a bit more recessed. This means you are limited to using the USB data cable supplied by PiPo or making one of your own because the USB cable needs to have a bit longer of a connector. HDMI, Power, and the MicroSD slot are all fine.

That's it for the cons. Really, I was just as surprised as you are that there wasn't some glaring fault with this unit as there almost always is with most China tabs.


LET'S TALK PRO'S

This is the best tablet money can buy from the TNT store-shelves as of the date of this writing. Because we only sell what we deem to be some of the best units out of China, it isn't too much of a stretch, therefore, to say this is within the top 3 - 5 units currently coming out of China and within the top 15 of Android Tablets period. I am going to give a few sentences on each area of awesomeness.

9.4" Form-Factor

I, personally, have never really liked the 10.1" form-factor. Not even on the much lauded Ployer Momo 12. It is just a bit too big and because it is longer the weight is often a bit awkward. At 9.4", I figured I might really like the Pipo Max M8 Pro but it still had the widescreen form-factor so I was skeptical of how comfortable it would be to use. Skepticism gone...

I am in love with the 9.4" widescreen size. Let me explain why generally and then get into the Max M8 pro particularly. Android Apps are unfortunately not really built for the 4:3 9.7" iPad formfactor that I tend to love. Most of the time it is not big deal but occassionaly on my 9.7" units I would come across an app that just looked rough, didn't work, etc.However, at 9.4" and "widescreen" with a 1280x800 resolution, this device is the "most" compatible it can possibly be with Android Apps as apps treat it the same as a 10.1" screen with the same resolution (which most Android Tabs use). Because it is physically smaller than the 10.1" size though, it is actually comfortable to use in all orientations. I have probably somewhat larger hands and I can never "thumb type" on the 10.1" devices in widescreen mode, but I can on this device. People with smaller hands may disagree. Because it isn't quite as wide, it also isn't as tall when held in "portrait mode" and therefore it doesn't look awkward at all when held or used that way. Anyone that has read an eBook on, for example, an iPad, and then tried to switch to a 10.1" android device and done the same knows exactly what I am talking about. That "oddness" is gone with this screen size. This is THE size for reading books, browsing the web, and just fooling around in android in Portrait mode. No exaggeration. No other form-factor comes close to how perfect this size is. I have tested 7" wide, 8" 4:3, 9.7" 4:3, and 10.1" wide devices and now this. Nothing else is this "perfect" of a balance between screen-size and usability.

However, the PiPo Max M8 pro takes it up a notch beyond that. Let's discuss...


Design and Build-Quality

PiPo apparently put a LOT of time and thought into designing this unit. The outer frame is either metal or extremely durable/hard/rigid plastic, which contributes to this device feeling extremely solid and well-built. There is no visible attaching hardware (screws, clips, etc) yet the unit is totally solid. The front face with the screen scratch-resistant glass/plastic of some kind and there are no gaps between screen and frame. It looks perfect. All of the ports, save for the headphone jack, are along the top rounded edge and they are somewhat recessed which actually makes them completely out of the way. Port placement is genius as it keeps all of the ports out of the way for widescreen use. the Headphone jack is on the top left corner/edge, opposite the power button which means it is as out of the way as possible for movie viewing/gaming while using headphones. PiPo very intelligently placed the speakers on the top edge of the front face. They are spaced off to the left and right. As a result. there is no normal manner that a user could hold the device and block the speakers with his or her hand. The Device is very thin, probably around 9.8 mm at its thickest however the design makes it look and feel much thinner than it is. The weight distribution is perfectly even across the entire device so not matter how you are holding it, it doesn't feel awkward. This device absolutely shines in widescreen but surprisingly even more so in Portrait mode. The rounded edge is incredibly comfortable to hold-on to and the device weighs less than most comparable 9.7" and 10.1" tablets and probably even some 8" tablets. Being the aforementioned kinesthetic enthusiast that I am, this device is a dream come true. I love holding it and using it. PiPo included a Power button and Menu/Back rocker. The rocker can easily be remapped for volume control in firmware though and future TNT firmware releases will have this setup by default. All of the physical buttons feel excellent with no "give" or "rattle".


I took the PiPo Max M8 pro to a recent work conference and had gotten questions and positive comments from several co-workers who are accustomed to Apple devices. They all really liked the design and several commented on how light-weight it is in comparison to an iPad (many of them are using iPad 2's). I just can't praise this form-factor enough however the 9.4" in size leads us into talking about...


Screen

I have already discussed my thoughts regarding screen brightness above. It isn't just "sufficient", it is actually quite bright and better than probably 90% of China tabs. The panel is manufactured by LG and the quality is immaculate. Color reproduction isn't just good it is spot-on. Putting the unit next to a Momo 12 and the Momo looks a bit washed out by comparison. That isn't to say anything negative about the Momo 12 screen as it is excellent but the M8 is just a bit better. The only panel I have found more "drool worthy" is perhaps the Chuwi V88's 8" panel which has even more vivid colors and contrast and is a bit brighter. Of all units beyond 8" though, this is my favorite screen. As stated above, the 9.4" / 1280x800 resolution produces an near perfect 160 ppi and leaves you with little-to-no performance hit on graphics. Speaking of which...


Performance

For a long time I had questioned the advantage of going from an RK3066 dual to an RK3188 quad and from going from 1 Gb of RAM to 2 Gb of RAM. This is the first RK3188 I have really done some serious internet browsing on though and also some very focused "use" and I must say that everything really is several ticks faster and you do notice it. It is ALL faster.. Internet page loads, app installs, app loading, interface transitions, high-end gaming, everything is better/faster. I did spend quite a bit of time with the M9 and I am guessing that, the M8 Pro being a later device, PiPo/Rockchip have continued to improve their firmware. YES, the Samsung Exynos 4412 does still feel a bit "smoother" but the RK3188 doesn't disappoint, especially considering the lower price-point of RK3188 devices vs. comparable Exynos 4412 tablets. Also, ever since we (TNT) moved to using the SGS III as a reference in our build.prop for our firmware, app and game compatibility have been near perfect. I am playing games on RK3188/3066 devices that have never worked before. (Namely Horn, and Dark Meadow). The only lag or frustration I experience was when I had 20 apps downloading and installing from the App store. That seemed to tax the unit a bit. As that was a one-time initial setup deal I haven't had another experience like it since. Everything is as slick as can be.


Sound

Sounds is really really good for a China tab but not necessarily amazing. As mentioned above, speaker placement is perfect. Front facing is very nice. The speakers are also quite loud with only a little distortion. There is an understandably strong focus on "treble" though and bass is pretty much non-existent. High/loud trebles are much more likely to make the speakers distort than strong bass so I think the move to mute the bass a bit was probably a good move and your speakers won't blow out as a result. Honestly, the sound is excellent/good for a tablet and most folks should be quite happy. Having front "STEREO" speakers is a big plus and they are louder than most but if sound is your primary concern you should take a look at the M9 as it has the best speakers of any China tab I have tested. Overall, the sound is definitely a positive, just not astounding as that produced by the M9 speakers. I would imagine due to the thin design and tight placement PiPo was forced to use smaller drivers than those founds on the PiPo Max M9. I like this device better in just about every aspect vs. the M9 (and the M9 is great, but this is amazing) but the M9 definitely deserves props for sound quality.


Battery Life

I am really bad about getting formal battery life tests done, however, I used this device for more or less 7 hours straight with 2 or 3 hours or sleep during one day of a recent conference and it was still going when I got back to the hotel in the evening so I don't think anyone will be disappointed. The RK3188 is a 28 nm chip which translates into it being excellent when it comes to power efficiency, the more I use RK3188 devices the more that proves to be true vs. the 40 nm RK3066 and the PiPo M8 Pro is no exception. I think 6.5 hours of straight use at 85% brightness and Wifi on is a highly conservative "guestimate" and I wouldn't be surprised if it goes longer during a formal battery test.


Wifi

Wifi is very good. Range and signal quality were solid. It is slightly ahead of the majority of units we sell. During the conference I attended I never had problems with getting a signal to my device even though the building we were in was pretty large and the WAP's weren't the best.


CONCLUSION

In short, buy it, buy it now and be happy! As soon as I can scrape the funds together I am getting one for myself and it will be my personal, main device and I test a LOT of tablets. The unit certainly excels in a majority of areas and the design and form factor completely won me over!